Bolingbrook Glass and Mirror is here to manufacture, deliver, and install "Coronavirus Barriers" to those who need them. These simple, transparent plexiglass screens help protect your customers and staff from furthering the spread of Covid-19.
Customized Sizes and Styles
Medical Facilities
Checkout counters
Customer Service Desks
Pharmacies
Deli Counters / Restaurants
Gas Stations
Bank Counters & More
Coronavirus Barriers
Provide a sense of well-being
Block airborne particles
Transparent & easy to see through
Simple to clean + sanitize
Custom fit to your needs
Includes all hardware & fittings
How Do Glass Barriers Work?
Glass barriers work as a blockade between workers and the public. They physically block the trajectory of respiratory droplets. They may also serve as a visual reminder to use proper hygiene to prevent the spread of germs.
Countertop Sneeze Guard Requirements
Sneeze guards for buffets or for use in restaurants during normal times are governed by the United States Food and Drug Administration (FDA). You can learn more about food safety regulations by visiting foodsafety.gov.
Bolingbrook Glass & Mirror works with small businesses and national chains to deliver and install glass shields and glass barriers for any business desiring to protect their employees and customers from transmission of airborne pathogens.
Large enough to protect employees from exposure
Made with safety glass or polycarbonate material
Professionally installed
Glass type and installation are of particular importance for keeping people safe. Standard glass products may be more likely to shatter or break – especially if the unit is not professionally installed and secured.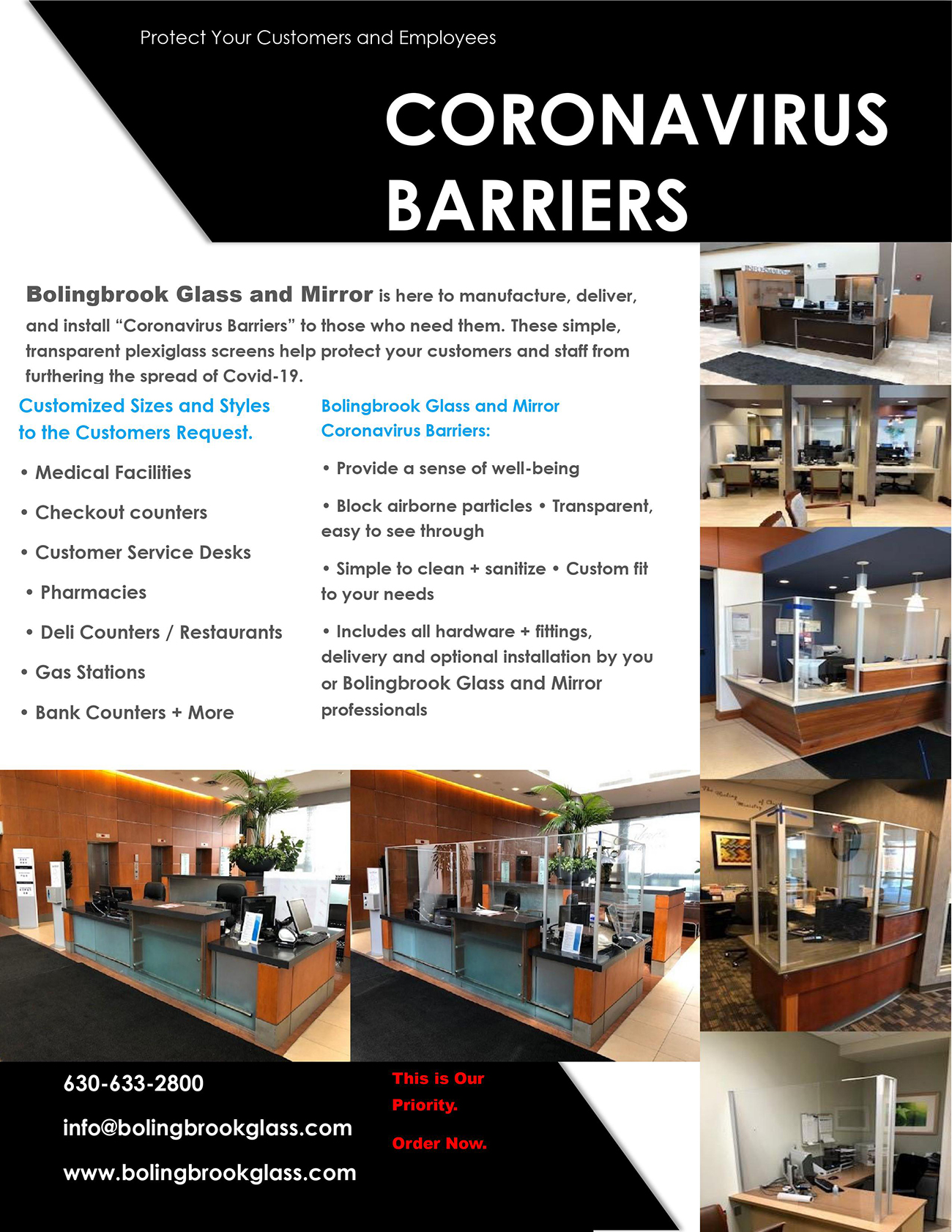 Coronavirus Barriers